Black History Month - Why Representation Matters in Healthcare Tech and Beyond
February 24, 2022 •Chuks Onwuneme
Starting as a week-long event in 1926, Black History Month has evolved over the years into the event we celebrate today. The theme of Black History Month for 2022 is Black Health and Wellness. By choosing this theme, the organizers are highlighting that "Black communities must look to the past to provide the light for our future . . . [and] create a platform that shines a light on the multiple facets of Black health and wellness through education and activism."
We are excited that this year's theme of Black Health and Wellness is focusing on not just the legacy of Black scholars and medical practitioners, but also on initiatives that seek to improve the lives of people of color, and of all populations.
Representation matters. We're lucky to have a co-founder who embodies the strength of diversity, and the spirit of entrepreneurship. We invite you to read about Chuks' unique experience in this article, adapted from its original format in GeekWire and on LinkedIn.
Chuks' Story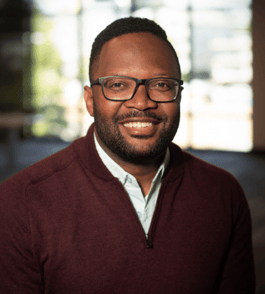 As a Black entrepreneur and Chief Innovation Officer of a fast-growing healthcare technology company, I have often found myself in spaces where I am usually the lone Black person at the table. I have realized how grossly underrepresented Black CEOs, CTOs, or other C-Suite executives and founders of VC-backed startups are in this space. This matters a lot, because the psychology of humans is linked to connections, and it's much easier to follow a pathway when you can see yourself in others.
Over the past few years, it has weighed heavily on me to use my voice, recognition, and experience to help provide a blueprint for those who wish to explore a similar career path. My approach has always been to encourage others from underrepresented backgrounds to see the benefits of charting their own pathways. Permission is never needed nor granted, just the right motivation to succeed. So, how did I get here?
Growing Up in Nigeria
My story starts halfway around the world. I was raised in Nigeria, and was barely 18 when I embarked on a one-way mission to study in The United States for college. As I stepped onto that airplane for the first time, I became fully aware of the weight of those I'd be leaving behind and immediately felt that what awaited me at the other end was going to be life-altering. I wasn't wrong.

I grew up in a place where many of the adults around me were of the engineering discipline, including my hero, my dad. As I grew older, I realized that I was really good at tunneling deep into specific subjects, most especially anything related to math and science. This translated into exceptional grades, and before long, I became obsessed with competing at math and science competitions that fostered STEM education around Nigeria and West Africa.
The Whiz Kid
Late in high school, a family friend purchased a home PC and often invited me to his home to work on it. Owning a home PC was unheard of in the community where I grew up. That same year, my high school introduced a computer lab with 5 donated PCs, the first of its kind of any school in my town. I became the go-to PC kid, always sneaking into the lab to write computer programs. In the summer of 1995, I was selected to represent my high school and state in a National Computer Programing Contest, where I placed third overall. I made up my mind to pursue a career in computing, but I didn't have any adult mentors who could advise me, as computing was relatively unknown in Nigeria at the time.
In those pre-internet days in Nigeria, I spent the next few years researching how I could land a funded trip to study computer science in the United States, mostly using borrowed books and talking to wealthier friends who had access to some of this information. This was quite a rare interest for someone in my economic strata, as you had to be from a high-net-worth family to be allowed into the United States on a student visa, and I wasn't. Nevertheless, I was undeterred. My research led me to The University of Texas at Arlington (UTA), the only college I applied to because they offered merit-based academic scholarships to international students. I also couldn't afford to apply elsewhere.
Forging a Path
My arrival in the United States didn't come without trepidation, as I quickly found myself alone in a new and unfamiliar world, far away from home and having to learn a new culture. I also discovered that I was one of the few Black kids like myself in almost all my engineering classes, totally naive to the underlying misconceptions about race in America, and the field I had chosen to study.

By my third year at UTA, I started seriously thinking about my career path. I was not a United States citizen at the time, and even though I maintained top grades in the honors program, my career choices were limited to non-existent due to US immigration law restrictions on foreign students. I quickly saw how my American friends had a leg up here, even though I consistently scored higher. I was passed on by many internships and job opportunities because of my foreign student status.

My time in college was quickly coming to an end without a clear future. I certainly couldn't return to Nigeria after college, as the country hadn't caught up yet with my education. However, given my unwavering belief in my mission to succeed in America, I finally landed a software engineering position at IBM.
Impact of Technology
Later in the fall of 2002, Nokia offered me a job, developing a Smartphone Operating System. Joining Nokia was arguably the best decision I ever made in my career, as it opened up so many doors for me. I was exposed to a whole new world and saw how my work was impacting many people in the world. For example, a family living in a rural village somewhere on the African continent could now call for healthcare to the nearest city and have a doctor check in for wellness. Nokia's technology ecosystem enabled opportunities for real people who had little means around the world. These things were often overlooked in the western world, but the impact was deep in many developing countries, where Nokia was king.

For the first time, I was able to tie my work directly to impact, and it gave me great joy seeing people all around the world using products I had a hand in developing. I could call my parents back in Nigeria, and they would pick up my call on a Nokia smartphone I helped develop. That was the life-altering mission I came here for. Additionally, I became eligible for permanent U.S. residency in the United States, and ultimately citizenship.

In 2011, after Nokia was acquired, I had to consider what was next for me. I was already bitten by the entrepreneurial bug after interviewing so many technology startup founders. At a friend's dinner party, I found myself pondering how a Bluetooth tracker could be used for cancer medications.
Solving Healthcare Challenges
Serendipity happened a year later when I met Jeff LeBrun, who had also been looking to solve medication non-adherence, and was looking for a software engineer to collaborate with. I felt mission-driven to devote my time to this problem in healthcare, which claims over 125,000 lives in the US yearly. After more than six months of working together with Jeff, we co-founded Pillsy in March 2015. Two and a half years later, we officially launched the world's first Bluetooth-connected smart pill bottle.

We pivoted the company in 2019, and turned our focus on Remote Patient Monitoring (RPM). Our 6+ years' journey together has been filled with trying times, that have often taken an unprecedented mental toll on me and my family. The entrepreneurial journey will take you through times when your resolve will beg you to quit.

However, for anyone who seriously considers this path, the possibilities are for you to imagine. I will always be at peace with the thought that I embarked on this mission to solve one of the toughest healthcare challenges facing our nation. Looking back to where I came from, I am humbled by it all, but energized by the inherent superpowers this career choice can represent, especially when channeled towards improving the human condition.