From work to socializing to running errands, the pandemic forced everyone to rely more heavily on technology for daily living. Research from the AARP shows that most seniors embraced technology for everything from streaming TV, chatting with loved ones, and shopping. While barriers to technology adoption among seniors still exist, not only is overall technology usage increasing, but so is interest in learning more about technology. We believe physician practices can use these trends to influence senior adoption of medical technology, but it is important to understand seniors' views on technology and provide solutions that meet their abilities and comfort.
Technology Usage and Spending Across Seniors
While the pandemic may have spurred the use of technology out of necessity, many seniors are embracing and enjoying technology. They have shown a willingness to invest in technology and most encouraging, the majority report wanting to learn more about technology.
A few key findings on technology usage from the AARP research include:
44% of older adults view tech more positively than they did before the pandemic
Annual tech spending of adults age 50+ increased from $394 to $1144
45% are using video chat with 33% using it weekly
54% of those age 50+ want to learn more about technology
46% of those age 70+ said they would use technology more if they knew how to
Using technology for personal health, including telehealth, ordering prescriptions, and making appointments increased from 28% to 40%
But Technology Barriers Still Exist
Despite the growing interest in technology and desire to connect with loved ones via technology, 38 million Americans over 50 years old do not have high speed internet at home. 60% of 50+ adults say that the cost of high-speed internet is a problem for them. And access in rural areas is tougher.
Lack of knowledge (37%) and privacy concerns (34%) are also listed as a top concern. 83% of seniors say they lack confidence that their information remains private online.
Technology Confidence and Comfort
While the majority of seniors have reported wanting to learn more about technology, only 30% consider themselves to be "tech-savvy." According to the AARP research, the 50+ age segment is realistic about their technology skills. 64% wait to adopt new technologies once they are mainstream and feel confident. Not surprisingly, confidence decreases with age and comfort varies by type of technology.
71% of seniors 50-59 are very confident or somewhat confident in their ability to use technology compared to just 48% of those 70+. 72% feel very or extremely comfortable using a smartphone, but only 41% feel very or extremely comfortable with video chat.
Those with less confidence report more appetite to learn about technology. 39% of adults 50+ reported they would use technology more if they knew how and 68% of adults 50+ who were uncertain about their use of technology said they would use it more if they knew how.
How Can Medical Practices Bridge the Divide?
We hear many practices express concerns about the willingness of their senior patients to embrace technology. However, the research shows, the interest and desire among seniors is often there if the technology and education about the technology meets their needs and abilities.
Remote patient monitoring (RPM) has the unique ability to overcome many of the barriers to tech adoption that the AARP research identified: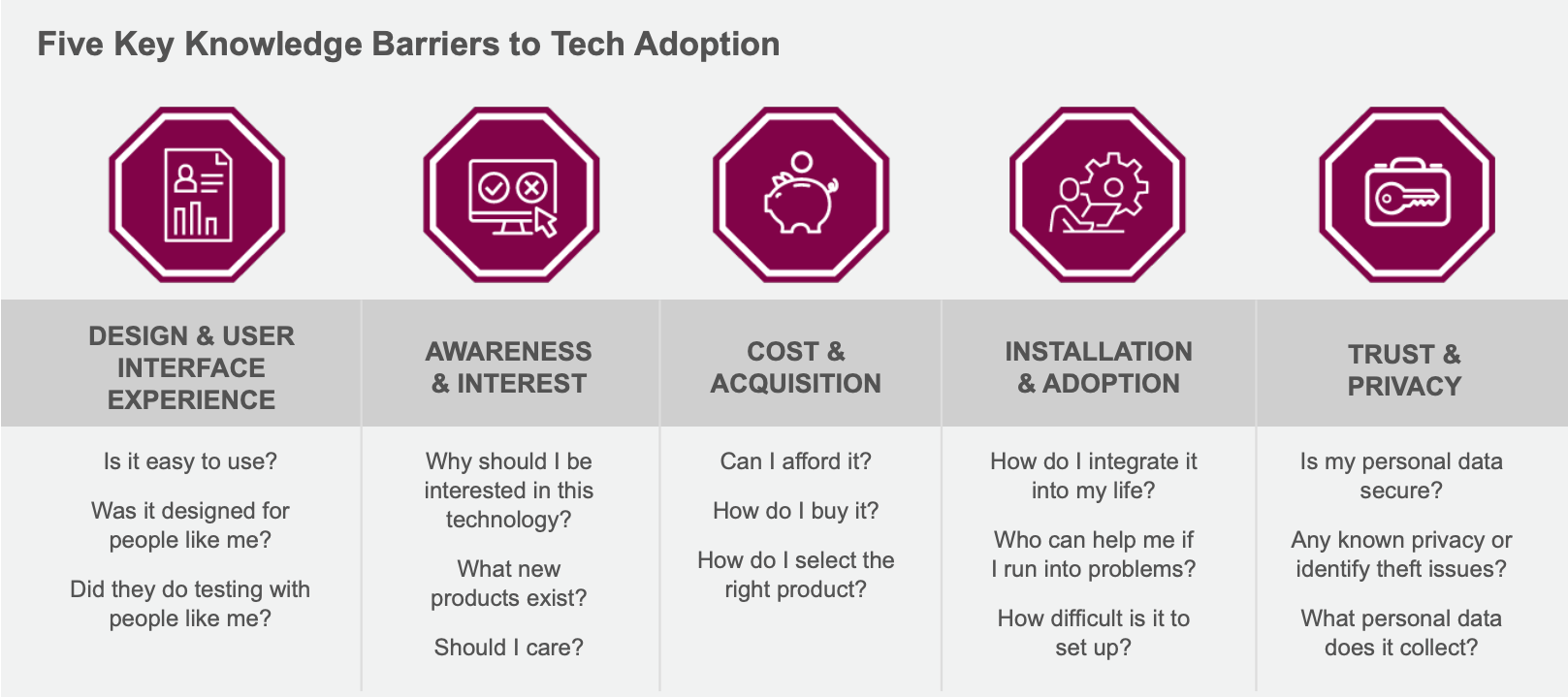 User Experience: Cellular RPM devices look just like "regular" devices. For example, with a cellular blood pressure cuff, a patient would push one button to take the reading and automatically transmit the data to your practice. With a cellular scale, they simply step on and off.
Awareness and Interest: RPM provides proactive, preventative care between visits. RPM nurses check on patients every day and provide valuable health coaching to ensure your patients are managing their condition and symptoms. This improves the quality of life for your patients while avoiding extra office visits, emergency visits, and hospitalizations.
Cost and Acquisition: RPM is covered by Medicare. Your patients do not need access to high-speed internet. Cellular devices work with any cell tower at no cost to the patient.
Installation and Adoption: RPM devices only take a few minutes (or less) to use each day. Cellular devices require no set-up. A monitoring nurse can help your patients with device troubleshooting.
Trust and Privacy: You can inform your patients that Congress has passed multiple laws like HIPAA, that protect private healthcare information. RPM companies must abide by these laws.
Understanding Differences Between Seniors
The research also indicates that your practice may want to think about your 50+ and 70+ as different groups. The 50+ group is generally eager to learn more about technology. While the 70+ group also wants to learn more, they are more uncertain in their technology abilities.
How you approach a discussion about RPM technology can make all the difference, ensuring they understand the benefits of RPM and the simplicity of cellular devices. Enabling seniors to feel capable and confident in their ability to adopt technology is critical.
Seniors, especially the 70+ indicated they want to learn about new technology from family and friends. They want more personal 1:1 interaction to learn about technologies vs. online classes and tutorials. Your staff and particularly the onboarding and monitoring teams can fill that role.
When implemented correctly, monitoring nurses develop ongoing, positive relationships with patients. They serve as mentors, coaches, and confidants that can be a great comfort to patients, especially those that are managing chronic conditions alone.
Your Seniors May be More Ready for RPM Than You Think
If you are ready to learn more about how simple, easy-to-use RPM devices can help improve outcomes and quality of life for your senior patients, set up a free consultation with an RPM expert.