Sarah Jacob, VP of Product at Optimize Health, sets the product vision and strategy to ensure that Optimize Health has cutting-edge, world-class products in the Remote Patient Monitoring (RPM) space. As remote care continues to grow, patient expectations around remote care will continue to evolve. Sarah's team is essential in building remote products that allow healthcare organizations to deliver high-quality remote patient care that drives positive outcomes and patient satisfaction.
Sarah is also passionate about elevating and mentoring women in the workplace and the world. In honor of International Women's Day and Women's History Month, we asked Sarah about her advice for women leaders and maybe a question or two about RPM!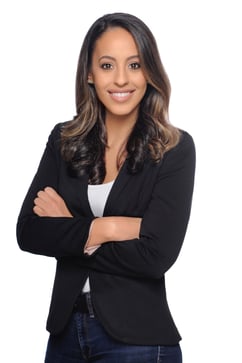 It's clear that mentorship is important to you. What role have women mentors played in your life and what suggestions do you have for women seeking other women role models?

Mentorship has been absolutely critical for me in my career. And actually, my most influential mentors have been men. It wasn't until later in my career that I realized the importance of women mentors because they have "been there before," and they get it. The women in my life are very inspiring, and a lot of what I've learned from them is simple: it's the fact that I can do it too. I can achieve the lofty goals I have, I can do the thing that I never thought I'd be able to do, and I can be damn good at it too.

And networking is hard. Especially when life gets incredibly busy. I heard great advice from a friend once: she told me networking is a part of the job. If you believe it's important and that it'll help you progress in your career, then you need to put aside 1-2 hours per week to network. That is really doable these days, with so many meetings happening virtually. It has paid huge dividends. But it doesn't happen by itself; we need to put in the work.



You recently joined Chief, a network designed to help propel women to positions of power. Tell us more about your journey to becoming a Chief and what challenges you faced as a woman executive.



Chief has been such a pleasure to be a part of. It's a community of women leaders who not only network with one another, but bring together advice in actionable ways. It's tough to find time to network and find people who you not only learn from, but enjoy spending time with. Finding a group like this has been critical to my growth and really helps me open my eyes to a lot of different ideas, viewpoints, and opportunities available to me.

As a woman executive, it's pretty common to be "the only one in the room." I've loved seeing this change and evolve over the years, where I'm now surrounded by other strong women in leadership positions. But getting comfortable with this and thriving in that environment has been a challenge. It's networking communities like Chief that allow us to feel comfortable being in that space.



What advice do you have for women seeking leadership positions in technology?



The most important thing to me is demonstrating functional excellence. I believe in building an excellent Product function wherever I am. That means building great data-driven products, building world-class product organizations, and doing everything in my power to instill functional excellence within my own team and function. If I can do that, the rest will follow.

For women, the difficult part is being noticed. It's not the work - because we do amazing work. It's about getting noticed, because we don't like to "ask for it." It can be uncomfortable, but I've learned that there's nothing wrong with asking for help, asking for recognition, asking for an opportunity, and asking for support. You'd be surprised how often that works.



You also serve on the Board of UpWardly Global. Tell us a little more about it and why you got involved.



I recently joined Upwardly Global because I wanted a way to give back to my community. Upwardly Global's mission is to eliminate employment barriers for immigrant and refugee professionals, and advance the inclusion of their skills into the U.S. economy. We envision an equitable, welcoming country where everyone - including immigrants, refugees, and asylees - can fully contribute and thrive.

I am an immigrant myself, and come from a family of immigrants so I've seen first-hand what it takes to start over in a new and foreign country. My parents are two of the smartest people I know, so seeing them build their careers has been incredibly rewarding and inspiring for me to watch. I want to be able to help others who are in a similar position. They probably excelled in their field where they grew up - and we can use those skill sets in our country today.



Work-life balance can be a challenge for women, and historically, expectations can be different compared to men. What is your perspective and experience?



I'm one of these people who believe you can achieve whatever you want - just not all at once. The reality is, women have different expectations put on them, and we are asked to do a lot silently as well. I've been able to focus on my career and I know that's why I am blessed to be as successful as I've been. I may choose to focus on other things in the future, and that may put my career second. These are choices we have to make and be comfortable with.

I also believe in work-life integration versus work-life balance. I enjoy my colleagues, so I bring them into other parts of my life as well. I believe in leading with authenticity. Sharing my life with work and my work with life is a part of that journey. This integration may not be for everyone. For me, the lines between work and life continue to become hazier in this new remote environment. So I'm embracing that.



Ok, one question about RPM. For practices that are considering launching or expanding remote care, what are the most important things to consider from a product standpoint? What makes the difference between a good remote care product and an excellent one?



Ah, the product question, finally! Whether a practice is just starting to deliver remote care to their patients or choosing to expand their existing programs, two things are critically important. First, the product needs to be extensible. You don't want to outgrow the product as your patient panel expands and as your patients' needs evolve. You want a product that will grow with you and can withstand the ever-changing care environment we live in today.

Second, the product needs to engage with the patients in the way they like to be engaged. The best solutions put the patient's experience first. Practices need to make sure to choose products that prioritize the patient experience, including both ease of use and clinical outcomes. The best remote care products drive patient outcomes and patient satisfaction throughout the entire journey.