On November 2, 2023, the Centers for Medicare & Medicaid Services (CMS) issued a final rule that announced finalized policy changes for Medicare payments under the Physician Fee Schedule (PFS), effective on or after January 1, 2024. The final rule gives the Federally Qualified Health Centers (FQHCs) and rural health clinics (RHCs) new opportunities to offer remote care to their patients with chronic conditions.
Can FQHCs and RHCs receive reimbursement for remote patient monitoring (RPM) through Medicare?
The short answer is: Yes. Starting January 1, 2024, CMS allows FQHCs and RHCs to bill for remote physiologic monitoring under code G0511. So, remote patient monitoring (RPM) services will be reimbursable in 2024.
Historically, FQHCs and RHCs haven't been able to receive reimbursement for remote physiologic monitoring. The newly finalized CMS 2024 Physician Fee Schedule now includes RPM services in the general care management HCPCS code G0511 when these services are provided by RHCs and FQHCs. This policy change gives great opportunities to FQHCs and RHCs to bring equitable care to underserved populations.
Can FQHCs and RHCs get reimbursement for RPM if G0511 is already being billed?
CMS changed the rule around G0511 to allow for the FQHCs or RHCs to bill that code multiple times in a calendar month, as long as all the requirements for the underlying service are met and there's no double counting. For example, if you provide TCM service and meet all the requirements, and you separately meet the requirements for RPM, you can bill G0511 twice. This is revolutionary for FQHCs and RHCs to deliver remote care to their patients.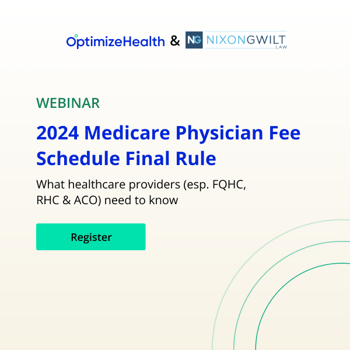 CMS also didn't seem to establish any upper limit on how many times G0511 can be billed as long as the resource costs are accounted for. It is possible for FQHCs and RHCs to provide all of the different services G0511 captures, so long as the underlying requirements for each service are met, and bill for all of them separately.
To find out more details around FQHCs and RHCs billing for RPM, join a conversation with Kaitlyn O'Connor, Partner and a highly experienced attorney in digital health and telehealth at Nixon Gwilt Law where she breaks down the pertinent rules and policies.
How can RPM help FQHCs and RHCs?
FQHCs and RHCs serve a huge population of patients living with chronic conditions. RPM will allow care teams to remotely monitor patients' vitals, track changes, follow trends and progressions, and intervene as needed. The benefits include reduced hospital readmissions, decreased ER visits, improved patient outcomes, increased efficiency in healthcare delivery, and many more. RPM also empowers patients to actively participate in their health, fostering a proactive approach to chronic condition management while enhancing overall quality of life.
With an easy-to-use RPM platform and connected devices that automatically transfer patients' vital readings, FQHCs and RHCs can extend care beyond the exam rooms and tremendously expand their impact on the underserved communities.
With the ability to bill G0511 multiple times in a calendar month for separate services when appropriate, FQHCs and RHCs can now utilize RPM technology to enhance patient outcomes and also seek reimbursement for these same services.
What should FQHCs and RHCs do now?
With the new policy becoming effective January 1, 2024, now is the time for FQHCs and RHCs to evaluate RPM vendors and establish an RPM program quickly. Refer to the 8 Questions FQHCs and RHCs Should Ask Before Starting an RPM Program infographic during your vetting process to make sure you are selecting an RPM partner who understands your needs, aligns with your mission, and provides best-in-class support.
How can Optimize Health help FQHCs and RHCs in setting up an RPM program?
Here at Optimize Health, we're on a mission to revolutionize the way patients access great healthcare. Book a free personalized demo to discover how Optimize Health is helping provide remote care for patients across the nation and how we can help FQHCs and RHCs set up a successful RPM program for 2024.
Disclaimer: This blog is solely designed to provide information to the viewer. Nothing in this blog should be construed as legal advice to any individual or entity. Further nothing in this blog should be construed as a guarantee of reimbursement. Please consult with an attorney for any legal advice.