Jeff LeBrun is the Co-Founder of Pillsy and Optimize Health. After serving as CEO for 6+ years, Jeff recently shifted to a new role as Executive Chairman and Chief Strategy Officer. We asked Jeff a few questions about the origins of the company, the future of RPM, and why he is so passionate about RPM in our "Meet Jeff" blog post.
You have been involved with multiple start-ups over the course of your career. What was the motivation for starting Pillsy and how did the universe lead you to your co-founder, Chuks Onwuneme?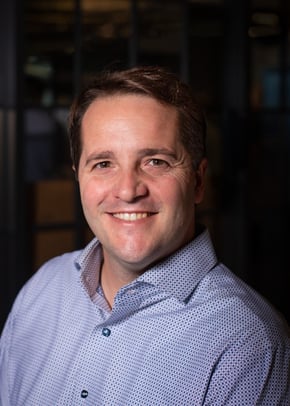 The idea for Pillsy evolved from a couple of different startups over the course of my career. At one of these startups, I was supporting some of the early wearable device companies. Interest in these devices grew as the companies began connecting them to the internet. It was easy for me to imagine the potential applications in healthcare and the value of continuous medical data.
I also started a VC-backed biotech startup in graduate school, where I quickly learned how significant of a problem medication adherence is in the US. Only 50% of prescribed medications are taken appropriately. This leads to 125,000 lives lost unnecessarily and costs the healthcare system about $300 billion annually. Those facts blew me away, so I naturally started thinking about solutions. Having followed products like Fitbit from their pre-launch, I started to think about the potential impact of that kind of technology approach.
Around that same time, I developed an allergy to my new puppy and started taking an allergy pill prescription. While I think of myself as a relatively competent person, I still found it difficult to develop a new routine around taking the pill.
With this work history experience and my own personal experience, I began reading about the "Nudge" and "Hooked" concepts in the newest behavioral science books. I became very interested in applying the work I did with the early wearables to medication adherence. The initial concept was creating a Fitbit-quality experience for people taking medications. By using similar design principles and the new (at the time) Bluetooth Low Energy technology, I knew there was potential to help people develop healthier habits that ultimately saved lives.
I met Chuks through the startup community in Seattle. We started hanging out together and building some things, initially just for fun. I was taking a year off to focus on learning, including UX design and coding classes, so I made it a goal to create a Bluetooth-enabled medication adherence product. After some market research revealed enough consumer demand, we decided to go for it and Pillsy was born.
You shifted the focus of the company from Medication Adherence to RPM when CMS introduced reimbursement for RPM. But now, with RTM it looks like reimbursement for Medication Adherence could be in the foreseeable future. How could that impact Pillsy?
I like to joke that we were about 5-7 years ahead of the market for Pillsy. In healthcare, sometimes it takes longer to get your product covered by payers even when there is legitimate demand and clear clinical benefit. In addition to navigating the bureaucracy of big payers, there are often other interests being protected that can slow down the process.
But eventually, healthcare can change for the better. And in this case, reimbursement for technology-enabled medication adherence will be huge.
Thinking about it another way, with all the changes that we've seen over the past 20 years, will the de-facto format for delivering medications still be plastic orange bottles in another 20 years? Let's hope not. Orange bottles weren't actually designed for patients. They were designed 40-50 years ago to streamline work for the pill-filling machines. And while they might save 45 cents of labor per fill, they are horrible to use, which contributes to the non-adherence problem.
At a certain point, the industry has to acknowledge how bad the existing medication delivery experience and ensuing outcomes are for the majority of people. It's just a matter of time.
In the pharmaceutical world, drugs for chronic diseases are mostly commoditized generics. That means for 98% of the drugs dispensed, there is no differentiation on the actual drug being sold. However, there is plenty of room to differentiate on experience, or to go "beyond the pill" as many pharma people like to say. With technology, it's possible to provide a digital coach that goes beyond the initial prescriber and the pharmacist to provide continuous 24/7 support. It could save tens of thousands of lives every year.
Your LinkedIn tagline says you are "Building the Future of Continuous Remote Care". What does that mean and how does it go beyond RPM?
Today's care is mostly episodic in nature, meaning that visits happen infrequently in the clinic. That has shifted to some degree post-COVID, but I think there is a realization that we have the technology to extend care beyond the four walls of a medical practice. Demand for these types of experiences is growing and they can provide superior clinical outcomes as well as improve overall quality of life for many patients.
I've been known to say that remote patient monitoring is to remote care as books were to Amazon's e-commerce business. It's a great place to start, but it's not necessarily the end game. I think people and practitioners want a single trusted partner to handle the bulk of their remote care interactions. It's our goal to be that partner.
Optimize Health recently hired a new CEO. What does Todd bring to the future of Optimize Health?
Having spent 10 years at athenahealth, Todd has amazing experience leading large teams and scaling digital health companies in our space. I've been successful as an innovator and an executor, but doing it at that scale like Todd is not something I've done. It's a great combination.
The RPM field was really new when you started Optimize Health and it's become an increasingly crowded field. How does Optimize Health stand out and how do you plan to stay ahead of the competition?
There's a saying that if you don't have any competition you should be worried. When we started out, I found that a big part of our initial job was educating people on the market itself. We used to have to prove that reimbursement was real by showing an Explanation of Benefits to practices. At this point, RPM is no longer a secret, especially with COVID dramatically accelerating the adoption of telehealth. More people are looking to provide these services and get reimbursed for them.
We are staying ahead by consistently improving and innovating. And, of course, we need to measure those improvements. In addition, we've developed a reputation for delivering on what we say we'll deliver on. In this business, execution is the name of the game, and something that sounds too good to be true usually is.
We focus on executing and delivering value to our customers and patients. At the end of the day, we know our true mission is about improving patient care. That's more important than beating our competitors, but putting patients and providers first will ultimately allow us to continue to outperform the other players.
Personally, I pick one thing that I want to improve on every day, week, and month. I write it down and I dedicate time to doing that, whether it's through reading, coaching, or whatever. That goes for the individual Optimizers too; we encourage everybody to define and work on their own personal development goals.
The University of Michigan (Go Blue!) is well known for producing great entrepreneurs. Tell us a little more about your startup mentorship with TechArb at Michigan and why it's important to you.
Go Blue!
Prior to attending Michigan, I had started websites around travel and live music venues that got some traction. But, I didn't really know what to do when I started getting calls from other startups and VCs who wanted to partner with me. Michigan is where I learned how to think about a business more systematically, and how to do some specific things like read a term sheet and make a cap table.
We've collaborated with Michigan students in several ways, from hosting interns through the Zell Lurie program (especially helpful in a rapid phase of growth after COVID), to sponsoring projects through the School of Public Health and the Ross Business School. The Social Venture Fund, which was started by a couple of my friends when I was in school, has also invested in TechArb, as did a fellow entrepreneur from the Wolverine Venture Fund.
This is important to me because I saw the advantages that other students had coming out of schools in the Bay Area or Boston, where there is more local access to entrepreneurship and to VCs. Michigan has a large community of alumni entrepreneurs, but there is no single physical nexus where we all reside.
Entrepreneurship has become a significant part of my self identity, so it's important to me to give back. Through mentoring and coaching, I try to help the super talented Michigan students and alumni who want to build new things and have a positive impact on the world. And, it's always been a lot of fun and incredibly rewarding to watch their ideas come to life.