Last September, CEO Todd Haedrich joined the Optimize Health leadership team with the vision of continuing Optimize's rapid growth as a leader in the Remote Patient Monitoring (RPM) field. Todd's goals specifically focused on creating a world-class provider and RPM experience, transforming preventative care, and improving patient outcomes and engagement. With those ambitious goals, we had a few questions for Todd six months into his new role.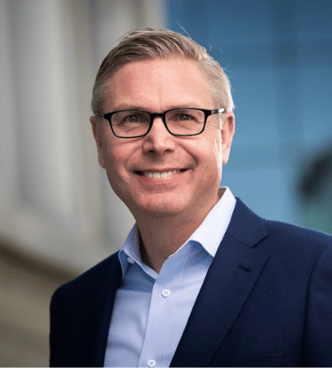 Now that you've had six months to dive into RPM, what excites you the most about it?
As much as Optimize Health has already accomplished in improving the lives of patients, we are still in the first chapter of the RPM story. In fact, I'd say we might even be at the first sentence of the first chapter. From my perspective, the future of RPM is still being shaped and written, which is extremely exciting.
Before RPM, care teams were limited in their ability to care for patients by the episodic data they had from patient visits and phone calls. With RPM, we can provide clinicians with a unique continuous view into the daily health habits of their patients. This proactive care approach has the potential to quickly improve a patient's health outcomes and overall quality of life by allowing providers to identify adverse health events earlier.
Optimize Health is at the forefront of transforming and connecting care. I am excited and proud to be leading an amazing company that is passionate about helping clinicians deliver the next generation of care.
Everyone knows it's hard to find good nurses right now. It seems like many practices might be interested in providing RPM as a service to their patients, but they just don't have enough staff. What advice do you have for practices in that situation?
It's a great question and we certainly recognize that staffing is a big concern. RPM transforms how you use your existing staff and can be implemented in a way that isn't a burden to your team.
Let me explain more:
First, RPM has been growing rapidly because CMS has recognized that the healthcare system has capacity limitations, especially in treating the 130 million Americans with chronic conditions. As this population continues to age, we don't have the staff or hours in the day to meet the growing demand for high-quality one-on-one in-office visits
Second, with the right partner, RPM can be easy for your staff. Optimize Health offers a managed RPM program, where our clinical staff can do the daily monitoring as an extension of your care team. We work with you to establish treatment plans and escalation processes, so patients view our nurses as an extension of their provider's staff. And you can maintain oversight of your patients care. Our monitoring team of experienced RNs knows how to engage with patients in a meaningful way in a remote environment. Our RNs have the clinical experience and critical thinking skills to reduce unnecessary escalations. Our staffing grows in time with your RPM practice so we are always ready to provide a great experience for new patients.
The pandemic obviously accelerated the growth of telehealth and RPM. As more and more patients go back to their doctor's office in-person, how do you see RPM fitting in?
We get asked all the time if telehealth and RPM will last beyond the pandemic, and the answer is unequivocally yes. Of course, there was an exceptionally high peak in telehealth during lockdown but even after practices re-opened, remote care usage was 38 times higher than pre-pandemic. Remote care continues to grow as patient expectations about remote care have shifted. 75 percent of patients want more remote care options than they have available today. In fact, 25 percent of people said they would even switch providers for better remote care options.
The clear demand for RPM continues to grow. Not only is it a great way for practices to improve the quality of care they are providing, but it is also quickly becoming a must-have to stay competitive. And relative to other telehealth models, RPM can deliver the type of connected and proactive remote care experiences patients demand
Social determinants of health have a huge impact on patient adherence to treatment plans and overall health outcomes. Can RPM positively impact these social determinants? If so, how?
Access to healthcare services is a critical social determinant of health. Remote care by definition can play a huge role in breaking down access barriers.
Currently, there are 121 million Americans that live in a hospital desert, which means they have to drive 30 minutes or more to reach a medical facility. The stark reality is many people are not receiving the care they need because it's simply not available where they live.
But with RPM, we can use technology and innovative care to literally meet people where they are, making care convenient and accessible even in rural areas. RPM brings healthcare into people's homes, even in underserved and under-resourced areas, connecting them to high-quality healthcare providers whenever and wherever they need care.
Remote patient monitoring can use EITHER cellular or Bluetooth-enabled devices to automatically and securely send data to their doctor. If a rural town does not have WiFi but they have cellular service (with any provider), RPM will work. Likewise, if cellular service is weak, but they have WiFi, RPM is still a viable solution.
We believe in the power of using technology and RPM to bring RPM to rural areas across the country. So does the Federal Communications Commission (FCC), who recently approved $200M in funding to bring telehealth services, including RPM, to rural communities across the country.